22 Jan

13 SPANISH SHORT FILMS

Article by João Serejo, SFFL Festival Programmer.
www.sfflondon.org

This year we will be hosting the first Student Film Festival London (SSFL 3-5th Feb) and our goal is to fill in the gap between student filmmakers and the industry. As a just graduated Film Curator, I feel that there are loads of talented filmmakers out there that never get the opportunity to show their films or, if they eventually do, it is very hard for them to make that first step that allows them to be seen as more then just "fresh meat". In an era of groundbreaking advancements in technology, we want to provide a platform that gives guidance and structure for their first steps.

While looking for universities and institutions, asking them to spread the word, to invite their students to submit their films, I came across ECAM – Escuela de Cinematografía y del Audiovisual de la Comunidad de Madrid. Bearing in mind the Spanish tradition in delivering cutting edge Arthouse cinema and also the fact that, until then, we did not had any submission from Buñuel's homeland, it only felt right to invite them to show us their films.

Ismael Martín, responsible for ECAM's promotion, sent us their 13th showcase of short films. From animation to fiction, the quality of this material really surprised me, not only for their provocative and even sometimes sarcastic plots, but also for the refined craft of their visuals. In the slot Out of Competition 'Film School Focus', we decided to celebrate this school from Madrid by showing our favorite films.
"Esto te pasa por barroco"  Dir. Pablo Serrano
From a dramatic story of a couple on the verge of their nerves (no pun intended with Almodóvar's masterpiece) to a mockumentary about a misunderstood vampire, not forgetting a very odd family or the so-hyped zombies phenomenon nowadays, we present over an hour of highly entertaining and engaging films, showcasing (we hope) a new generation of emerging Spanish filmmakers.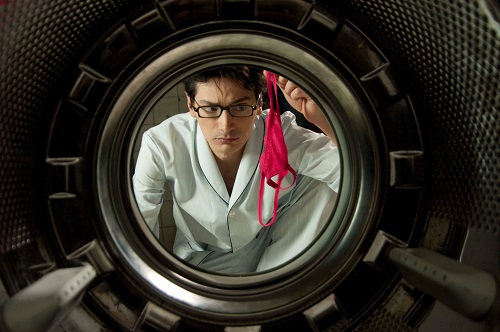 "La lavadora" Dir.  Ana Aurora Rodríguez & Andrea Correa
'Out of Competition (Block 1) Film School Focus ECAM' – 10h, Saturday, 4th of February, 79 minutes
"Sin Palabras" – Dir. Bel Armenteros, Fiction, 14min.
"Dog Balls" – Dir. Ernesto Felipe Díaz & Hugo Llanas, Animation, 3min.
"A Tiempo" – Dir. Guillermo Magariños, Fiction, Fiction, 13min.
"La Lavadora" – Dir. Ana Aurora Rodríguez & Andrea Correa, Fiction, 12min.
"El Vampirito" – Dir. Pablo Navarro-Rubio, Fiction, 18min.
"La Familia De Mi Novia" – Dir. Guillermo Chapa, Fiction, 12min.
"Eso Te Pasa Por Barroco" – Dir. Pablo Serrano, Animation, 4min.
"Fase Terminal" – Dir. Marta Génova, Fiction, 13min.
>

"Sin palabras" Dir.  Bel Armenteros

>

"La Familia de mi novia" Dir. Guillermo Chapa

>

"El Vampirito" Dir. Pablo Navarro-Rubio