07 Jun

4ª Mostra de Cine Periférico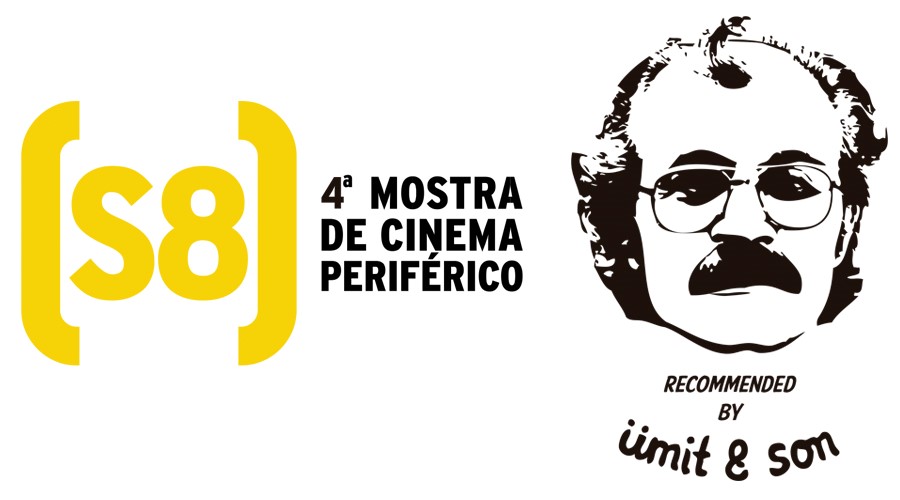 DVD is made of rust, film of silver
(S8) Peripheral Film Festival (A Coruña, Spain) reaches the fourth edition of an amazing adventure which defends the small gauge film preservation.
The (S8) Peripheral Film Festival A Coruña reaches its fourth edition, establishing itself as a unique event in Spain, not only because of its aesthetic bet (and ethics), but as a survival model based on enthusiasm and rigor. Four years after setting up this "wonderful adventure", the (S8) has earned a place in the list of the Spanish best cultural events of the year among other events such as the tour of Portishead in Spain in 2012, the PHotoEspaña 2012 (Madrid), Primavera Sound and the In-Edit Beefeater (Barcelona). Without going any further, the image of this fourth edition of the Mostra also represents the kind of people who keep the dream alive: Ümit, who from his small shop packed with Super 8 in London, depicts our utopia with that splendid motto: "DVD is made of rust, film of silver": the noble material with which is invented and built the desired and potential reality that (S8) seeks.
"New angles. Audiovisual peripheries. This is what the (S8) is about; and not only Super 8… the (S8) relies on unpublished inedited resources originated by the audiovisual non-commercial explorative practice". Alan Queipo, chief editor of www.notodo.com
Tate Modern, Cinémathèque Française, Georges Pompidou Centre, Harvard Film Archive, the Cinemateca Portuguesa and festivals like such as Xcéntric (CCCB, Barcelona), DocLisboa and (S8) 'The New Monster' session… Personal best list 2012 by Francisco Algarín coeditor and co-founder of Lumière.
"To discover Peter Kubelka movies on a big screen, whom I only knew from cinema related readings, has been the biggest filmic treasure, by far, that 2012 has left me. His film Arnulf Rainer (1960) is so universal, so original, that… I could have continued observing it in a loop until the end of time. Films like this, one in a million". Víctor Paz Morandeira, chief editor and co-founder of A Cuarta Parede.
SPECIAL EDITION: ARGENTINA
Starting a new and necessary way of exploring the avant-garde's past and presentworld, this year's (S8) dedicates a special edition to Argentina, thanks to the expected happy confluence that is the continuation and expansion of one of the most epiphanic and special works that Super 8 has ever seen: Claudio Caldini, who since the 70's has been implementing a highly personal vision and sweeping cinema.

Years later, a new generation follows his steps with a similar spirit of discovery and an unique personality: Pablo Mazzolo, Pablo Marin and Sergio Subero. In addition to this bridge, our programming tends to include films of that "other Argentinian Cinema": from an exploration of the hidden history of the avant-garde (with works by artists such as Narcisa Hirsch and Jorge Honik) to a journey through the legacy of amateur films preserved by the collection ARCA (Regional Amateur Film Archive). To close this circle, Fernando Martín Peña and Fabio Manes (curators at the Argentinian National Film Preservation Center) bring a brief but significant sample that includes the screenings of recovered silent films, cinema from the Argentinian Golden Age (50s), to conclude by reminding a key figure such as Leonardo Favio with his debut film "Chronicle of a boy alone", which has been catalogued as the best film in the history of Argentinian cinema.
JAIME CHÁVARRI: "RUN, BLANCANIEVES, RUN"
In 1976, one year before that "Spanish people, Franco is dead", there came out a splendid and poignant movie: The Disenchantment, a bottomless well of ideas and incredible portrait of Panero family. Somehow it was the consecration of a filmmaker, Jaime Chávarri, who later directed (as a craftsman, he says) a handful of outstanding Spanish film titles like To an Unknown God, Bicycles are for the Summer, The Things of Love or Tender Summer of Lust on the Rooftops. But before all this, there was Super 8. In addition to several short films in this format, Jaime Chávarri made two movies in 8mm and Super 8, some hidden gems now recovered for public recreation. Being school before official school (the EOC) and at the same time (and while Chávarri worked as a critic for Film Ideal magazine) these movies condense Chávarri's mad enthusiasm for cinema, shot on weekends with no money and the irreplaceable (and inspiring) presence of Mercedes Juste. Run, Blancanieves, Run (Spain, 1967) and Ginebra en los Infiernos (Spain, 1970), are the titles of the two small gauge films to be screenend for the first time ever during the (S8) in what can be considered an historical session regarding the avant-garde film exhibition in our country.
BEN RUSSELL AND BEN RIVERS: EXPANDED ANTHROPOLOGY
Cinema is an inexplicable revelation. It is a medium that transcends time and space and redefines the concept of ubiquity. Cinema challenges us to break the patterns through which (we think) we see and understand the world. It pushes us against all known limits to make way for the arcane celebration. And if we think about it, it's very exciting. It seems that cinema has been channeling energy through different artists who acknowledg it is the perfect medium to perceive reality in a more expanded and spiritual way. Ben Rivers and Ben Russell know, seek and explore it in their movies.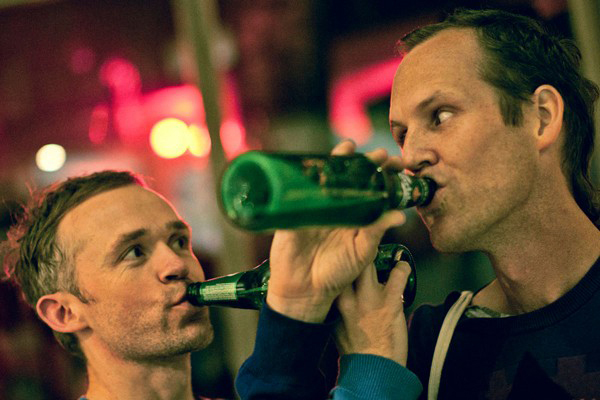 The program 'The Unknown: Cinema, perception and altered states' is an invitation to feel and share ideas about film intuition, perception, sensitivity, ecstasy and all the nameless feelings we live while making or experiencing a movie. All this will be possible revisiting the work of Rivers and Russell in this experimental and fascinating setting with hypnotic inductions that will bring us to other states and expand our film experience including titles such as Power of Ten (Charles and Ray Eames, U.S, 1977), Origin of the species (Ben Rivers, Britain, 2008), Badlands (Ben Russell, U.S, 2011) I… Dreaming (Stan Brakhage, U.S., 1988), or River rites (Ben Russell, U.S., 2011).
A wide view on the 16mm production of American and British filmmakers that will be completed by a film performance conducted by Rivers and Russell including the expanded cinema session 'The Black and the White Gods'.
NEW GALICIAN CINEMA…
During the 4th Edition of the Peripheral Film Festival, the public will be able to revisit, rediscover or discover the talented films by this new value of Galician Cinematography. A programme that includes titles such as Paisaje – Duración (2010), En el movimiento del paisaje (2010), Na Vibración (2012) and the recently awarded Montaña en sombra (2012), this last film has been recently awarded at Kurzfilmtage Oberhausen. Patiño will also present at Coruña two video – installations, one of them an unprecedented exhibition that will be opened in the context of the festival with the title "La muerte trabajando" (Death working).

Paintings on the move, the films and installations by this emerging artist have been screened and displayed in art centers such as the Centre Georges Pompidou (Paris), MAXXI (Rome), Haus der Kulturen der Welt (Berlin ), Museo Reina Sofia (Madrid), La Casa Encendida (Madrid), and at festivals such as BAFICI (Argentina), Kurzfilmtage Oberhausen (Germany), Media City Film Festival (Canada), Festival of Rome (Italy), Rencontres Internationales Paris / Berlin / Madrid, Jihlava Film Festival (Czech Republic), Punto de Vista Festival, Festival of Las Palmas, Festival of Huesca, and Documenta Madrid, and now in the (S8) of A Coruña.
…FIRST LOCAL STEPS TOWARDS EXPANDED CINEMA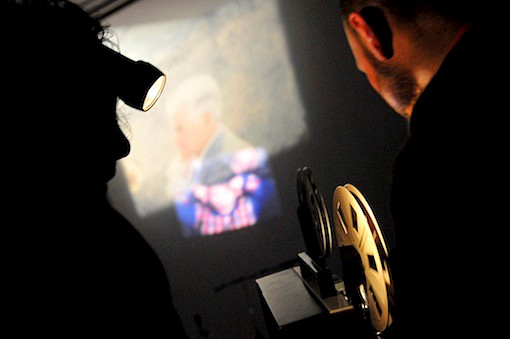 Another rising talent of Galician avant-garde cinema is the artist Miguel Mariño. In this case with the added value of being one of the first visual artists in our community who has followed the footsteps of artists like Bruce McClure, Zoe Beloff, Guy Sherwin, Miwa Matreyek or Magdalena Arau, heading down the path of film performance. Part of the "credit" goes to the expanded cinema 'Desbordamientos' section programmed by (S8) festival since its very origins, being one of the main commitments of the organization. Mariño will introduce at the 4th Edition of La Mostra his session 'Fomos ficando sós': "A journey into the depths of the cinematic experience understood as an event of encounter between the subject and the creation of the film that takes place in real time. Using as symbolism of filmic context verses of the poet Manuel Antonio "Fomos ficando sós / or Sea or boat and máis nós" the film performance… is conceived as an individual and collective journey that enters a "Sea" (of film) where shape and content are inextricably associated. "