10 Jan

FLOWERS, PIXELS & VAGINAS PIPILOTTI RIST: EYEBALL MASSAGE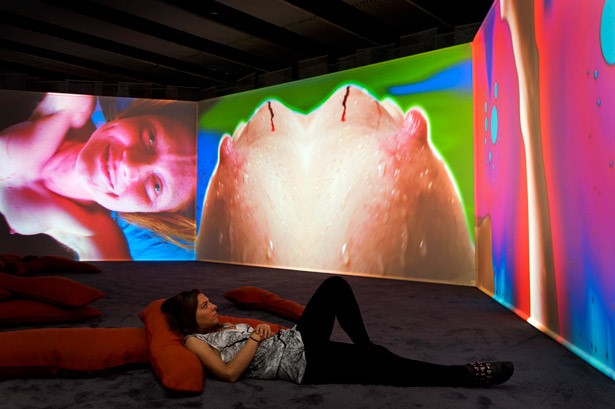 It was an unexpected surprise knowing that Pipilotti Rist was invited for the first time to show her work in London. Seeing and living her art was a rather fun than predictable. A woman, with international recognition and prestige, who has reinvented video art and installation for twenty years now was unlikely to leave us indifferent. The Hayward Gallery takes in EYEBALL MASSAGE until January 8th. A retrospective exhibition showing the Swiss artist's work. Starting from her first video installation in 1986 I´m not the girl who misses much, up to her latest work including two pieces exclusively conceived for this exhibition.
One of her pieces welcomes us before entering the art center; A cable with lights covered with underwear. When watching the panties waving in the wind, came back to my mind the idea that an artist is as big as what she/he thinks of her/himself. And just entering the building we a big spider lamp where the crystals have been replaced with underwear pieces. And on them, some diffuse waving footage is projected. Using intimate underwear as a public screen is a comical and subversive concept.
>

 

In the first room there is a model displayed of a suburban bungalow with video projections on the housing structure and on the huge walls framing the piece. Rist generates intense sensations in us by breaking our expectations. That is the most recognizable feature in Rist´s work: the expanded video projection, far beyond the screen: She sets the images free and spreads them over walls and objects of every kind and size, either static or dynamic. And there we are, wandering where does the footage come from and why is it spinning around a child´s bedroom or along the exhibition room.

Thereby, the artist questions the very nature of viewing a video installation. Pipilotti takes us into her work forcing us to search everywhere, lying down or kneeling, exploring and even forcing us to put our heads into a big lying pyramid to see what happens inside. A funny example of her concept´s plasticity is the tiny video display that we find in the floor of the main room. From the inside of that little hole, a worm-like Pipilotti Rist cries for help while we observe her from above. The artist says that this piece talks about "the need to forgive ourselves and the others for our mistakes". Philosophy, art and comedy in the same hole.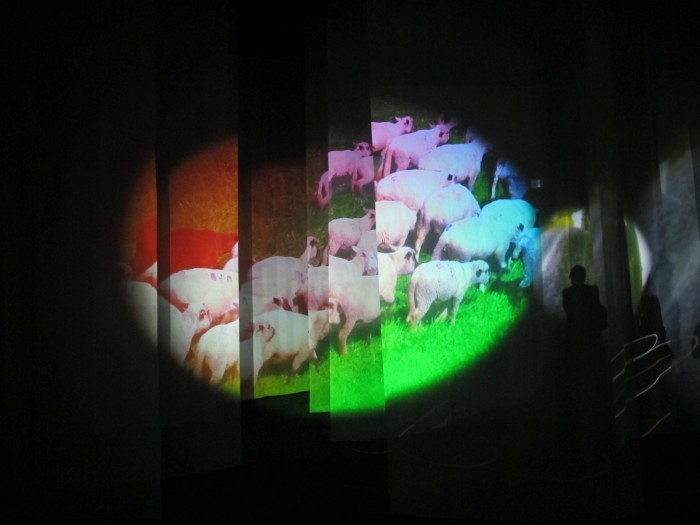 Eyeball Massage integrates video art, sculpture and installation techniques and puts them together at the service of one artistic intention. We find seashells and women's handbags hiding TV monitors inside them. The spectator, unknowing what to expect, must put his/her ears and eyes close to the object in order to see and listen what's going on in them,  feeling like the nosy child willing to hear the sea and ready to be surprised again. According to For Pipilotti, technology has its own life and "we should understand its nature and limits to make it up with it and use it as we should".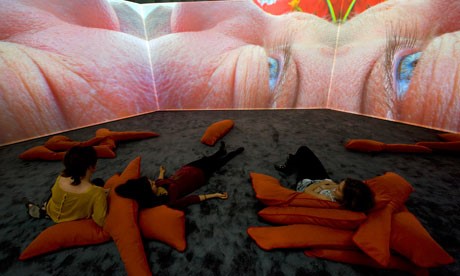 The colorful and naïf aesthetic is one of the Swiss artist's trademarks. From the beginning to the end of the exhibition, we find ourselves surrounded by the most acid and saturated colors you can imagine. In Lobe of the Lung Rist invite us to lie down in cushions on the floor to watch a huge sized video screen overflowing of fruits, animals, human bodies and colored fluids footage. It is kind of a New Age style voyage to a child's mind who has just discovered the color in Nature.
The soft lullaby melodies and the inner body sounds come to enhance a lysergic trip that takes us back to the mother's nurturing womb. The human body and its organic essence is the main theme of the whole work of Pipilotti Rist; she presents it like a landscape, filming it in every possible way: under the water, to the inch with surgery cameras and even from the inside. And this personal and extreme perspective ends by turning the human body into a weird animal or a fantastic creature provoking either fear or laughter.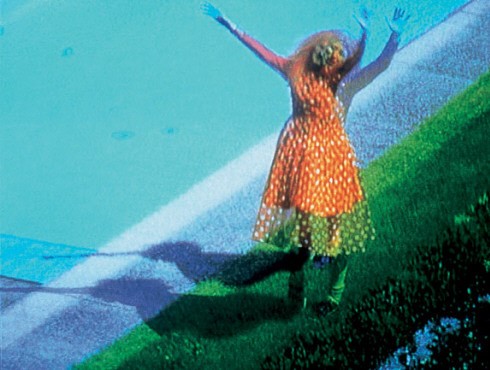 And with eyes brimming of fuchsia roses and explosive greens we end our visit in Administrating Eternity. Defined by the artist like a "forest of light", we get lost among translucent surfaces and color-light beams.
Finally we exit Eyeball Massage as we had passed through a car wash: renewed, slightly dazed and with a childish smile in our face. A trance going from the philosophical to the sensuous, without  losing on the way a bit of its nerve and authenticity. An experience I would be delighted to repeat every now and then and share it with Sin Fin Cinema People!